Hey Cuties!!!
THINGS HAVE BEEN CRAZIER THAN A SATURDAY AFTERNOON IN 1994 AT DC DISCOVERY ZONE. Tour is so fun and everyone that has been coming to the shows has made me happy cry all over the place. Plus, last night we roasted hot dogs (my favorite food group) and marshmallows and I didn't think life could get any better, but THERE ARE EVEN MORE THINGS TO BE EXCITED ABOUT BEYOND NOSTALGIC PROCESSED FOOD.
First off, I'm so overwhelmed and humbled by the amazing things people have said about Heart on My Sleeve. I really poured my heart and soul into the record, so it's amazing to hear that fancy people, like Good Morning America, The New York Times, NPR, and of course, YOU BABES, to have embraced it so lovingly. I am so touched. Thank you.
Another neat thing about an album release is that I GET TO PERFORM AT SO MANY NEAT PLACES AND MORE IMPORTANTLY, EAT ALL THE HUMMUS AND WHITE WINE ON ALL THE MANY HOSPITALITY RIDERS. So much kombucha, y'all.
First ridiculously super cool performance:
I'm a part of VH1's You Oughta Know Concert on November 13th alongside some of my friends A Great Big World, Sam Smith, and Echosmith!!!!! Please watch it!!! I'm so excited for the TV THINGS and also SAM SMITH IS SUPER ADORABLE AND I ENJOY HUGGING HIM. My "You Oughta Know" commercials have been airing on VH1, and I maybe screamed in my hotel room the first time I saw them. You can watch here if you would like to freak out by proxy!
ALSO THEY INTERVIEWED ME WITH KITTENS AND I HAD AN ALLERGIC REACTION BUT IT WAS WORTH EVERY MINUTE.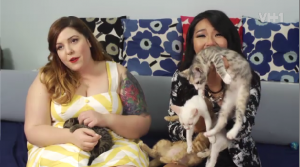 This year I was so honored to be a part of the OUT100 of 2013, and I'm equally honored to perform at this year's OUT100 20th Anniversary Gala on November 20th! At the event, OUT will honor five remarkable individuals for their significant achievements including Samira Wiley, Zachary Quinto, Ellen Page, and Tyler Oakley. NEAT! Sidenote: Tyler Oakley is the cutiest of all the patooties.
THEN, I'm performing on the Red Carpet LIVE pre-show at the American Music Awards on 11/23!!! WHAT IS MY LIFE?!?? You can tune in via Yahoo Music and learn more about it here. I'm gonna wear a fancy dress or skirt or glitter or combination of all of those things.
More things! All of the things!:
I'm a VevoLIFT artist this month!! Some of the dear friends I mentioned before were previous LIFT artists, so I'm totally stoked to a part of this group!!! I get to launch exclusive videos with them this month! Yay! In the meantime, you can watch what we've launched thus far here.
But this might be the best part of the series.
I'm also an American Express Artist-In-Residence! Over the next couple of weeks, they're also releasing super sweet videos that I did with them that include Betty Who and Rixton, too. Stay tuned!!! So many videos! All of the things!
I'm still on this crazy beautiful tour, so if you haven't seen a show, there's still time to come see Maiah, Heather, Tim and me out on the road!!!
I LOVE YOU BABES SO MUCH. I LEAVE YOU WITH THIS:
xoxo,
M