Yep, it's true, we are hitting the road again in the second installment of the Everybody is a Babe Tour in January!!!! I have always dreamed to be an incarnation of the Snow Queen and wear a white robe and feed children turkish delights while the snow falls (in this alternate story, the Snow Queen is an adorable fat lady that just wants to hug you), and I really am banking on this tour to offer that kind of experience. Metaphor: turkish delights are feelings!!!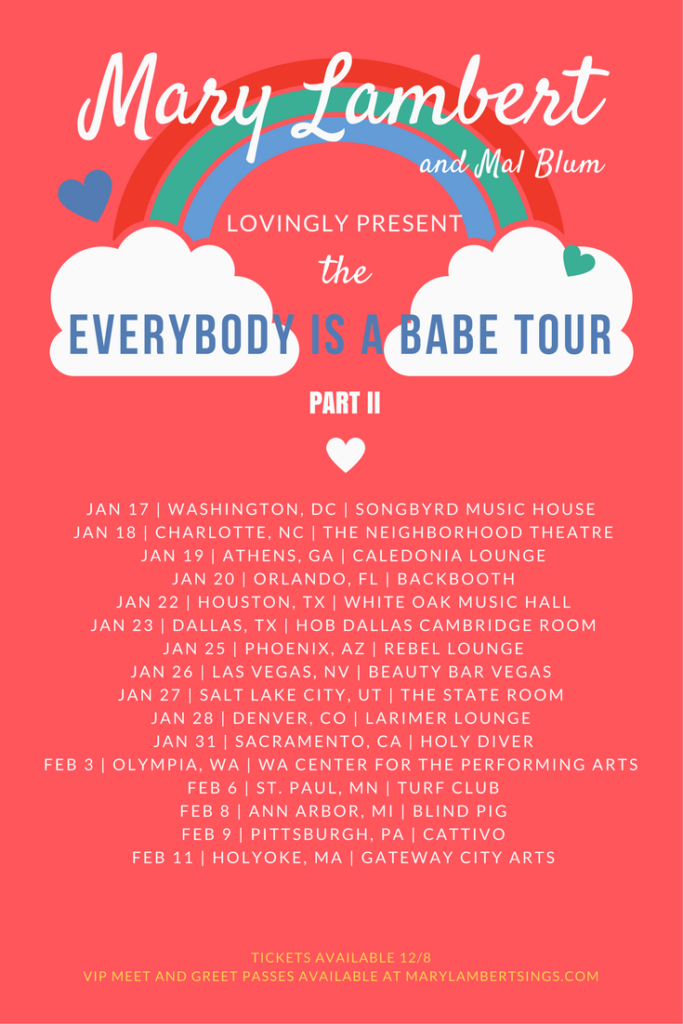 In other non-tour news, my life is a revolving door of bizarre and painful and also beautiful. All I really feel comfortable saying about my relationship in this blog is that I had a wonderful 4 years with my partner whom I loved very much. We are no longer in a relationship and the break up was mutual, though very difficult. Being diplomatic is hard, because I am a chronic over-sharer, and I also use social media and the internet as a means to connect with people, so the restraint in talking about my feelings or what this situation means to me is difficult. As far as my art is concerned, well, you're going to hear a lot of break up songs over the next long while.
I have also been reflecting on the intimacy and beauty of platonic relationships; I am forever grateful to my friends and those who I hold dear for providing a soft space to land and process. My assistant/bff, Nadia has been staying with me so I don't completely lose it in a 3 bedroom house alone. I have been crying a lot and feeling so much, but I've also been going dancing and buying ridiculous things and eating all the Chinese food and letting myself have crushes and drink margaritas because I don't believe in wearing black and hiding in a cave of sadness in order to be present in heartbreak and healing.
In a compounded and arguably symbolic tragedy, my house caught fire a few days ago. The dryer I had was so ancient (had to be like 80s or 90s), and was very finicky to begin with. The fire department ruled that it was literally clothes that got too hot and caught fire. I lost about half my clothes, and some other belongings, but all in all, I was so so lucky to not have lost more. It was one of the scariest things I've ever experienced. I felt really alone and terrified and sad. Seeing the fire rip through the basement window, and smoke billowing out is an image I will never forget. The house still needs a few things done before it is totally safe, but I am mostly back to normal there. I haven't put Christmas lights up. I don't know if I will this year. I've been writing a lot of poems. Maybe I will write a poem about Christmas lights!
I hope you are well, dear reader. It has been a JOURNEY the last 2 months, but I am confident we'll get through this together! Mercury is in retrograde until the 22nd, so hang the fuck on. I hope I get to see you all on this second installment of the tour. I have been feeling and desiring connection and community more than ever, and I am grateful for the encouragement and kindness I have felt from you all.
My precious peanuts, I hope:
that you stay warm as winter approaches,
that you drink water,
that you surround yourself with people that love you unconditionally,
that you recognize small victories in your life,
that you feel no shame in being exactly who you are,
that you are seen and met with the kind of love that you offer,
that you are gentle to yourself,
that you have a comfy blanket or robe,
that you eat your favorite foods without shame
that you see a cute dog and it wants to be pet by you!!!!!!!
This is all to say I hope you are taking care.
Love you all so much, it's ridiculous.
xox
ML